Interview with Eliza March
Published 2014-02-09.
Indie Books at Smashwords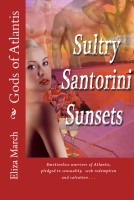 Sultry Santorini Sunsets [Erotic Journeys]
By
Eliza March
Price:
$2.99 USD.
Words: 33,840. Language: English.
Published: February 23, 2015.
Emotionless warriors of Atlantis, pledged to sensuality, seek redemption and salvation . . . Three thousand years ago, six warriors of Atlantis pledged themselves to the Goddess of Sensuality, exchanging emotions for heightened senses and immortality to protect what remained of their lost world with a promise of a future with the one woman who can return their lost emotions and everlasting love.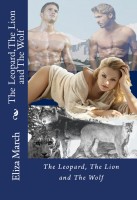 The Leopard, The Lion, and The Wolf
By
Eliza March
Price:
$2.99 USD.
Words: 27,500. Language: English.
Mackenzie's ménage fantasy comes to life when she's snowbound with Sky Castle Lodge partners, Adam and Trent. For Kenzie, the strange sensations, the sexual need, and the awkwardness all suddenly make sense when she discovers she's a shape-shifter and so are the men she's trapped with. Can she accept them both? Will they be willing to share?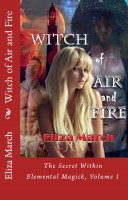 Witch of Air and Fire: The Secret Within
By
Eliza March
Price:
$0.99 USD.
Words: 22,140. Language: English.
Imagine a soul-mate reaching deep into your dreams who waited centuries for you. That's Cian, the ultimate lover and consummate hero on so many levels. Candace, the spunky virgin witch with the power to fulfill an ancient prophecy, was nothing he and Regan his friend expected and everything they needed. Will two alpha warlocks share the woman they love to save the world?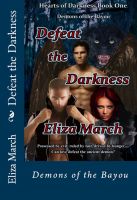 Defeat the Darkness;
Demons of the Bayou
[Hearts of Darkness, Book1]
By
Eliza March
Series:
Hearts of Darkness
. Price:
$3.99 USD.
Words: 97,680. Language: English. Published: February 7, 2014. Category:
Fiction
»
Romance
»
Paranormal
Possessed by evil, ruled by lust, driven by hunger. Can love defeat the ancient demon and turn darkness into light? When Kyle is bitten by a rogue jaguar, his life turns into a bad "B" movie. Back in New Orleans, he fights the demon, but will the price be too high?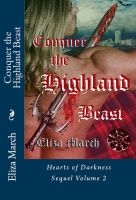 Conquer the Highland Beast:The Vampire Dylan Macgregor
Highland warrior, Dylan Macgregor learns revenge will not bring him peace. Three-hundred years after being turned on a battlefield by an ancient born vampire, Dylan still battles the darkness,..until he meets his life-mate, FBI profiler Special Agent Caitlin Donovan. How will he keep her safe when he discovers she's targeted for death by the demons invading his territory?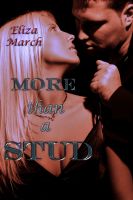 More Than A Stud
Carina's biological clock is ticking and her young intel officer wants to be more than her stud.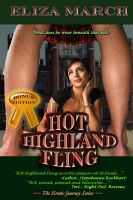 Hot Highland Fling [Erotic Journeys]
Free lance writer, Ailsa Jackson is finished dating executives. She's looking for hot sexual fantasies with a man who fits her needs... "All muscle, stamina and no commitment." The assignment in the UK sounds perfect when she's assigned to interview an American CEO who recently inherited lands and a title in Scotland.