by Eliza March
The three books in this series are available at SMASHWORDS
$0.99 each during the month of December.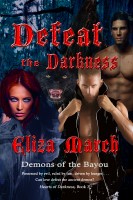 COUPON NN39H
Defeat the Darkness: Demons of the Bayou
[Hearts of Darkness, Book 1]

by

Eliza March

Series: Hearts of Darkness, Book 1. Price:

$3.99 USD.

Words: 97,680.
Language: English. Published: February 7, 2014. Categories: Fiction » Romance » Paranormal,Fiction » Romance » Erotic
Possessed by evil, ruled by lust, driven by hunger. Can love defeat the
ancient
demon and turn darkness into light? When Kyle is bitten by a rogue
jaguar,
his life
turns into a bad "B" movie. Back in New Orleans, he fights the
demon,
but will the
price be too high?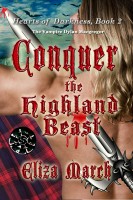 Highland warrior, Dylan Macgregor learns revenge will not bring him peace.
Three-hundred years after being turned on a battlefield by an ancient born
vampire, Dylan still battles the darkness,..until he meets his life-mate, FBI
profiler Special Agent Caitlin Donovan. How will he keep her safe when he
discovers she's targeted for death by the demons invading his territory?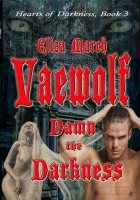 Dylan Macgregor overcame years of darkness, but until he faces the loss of
his
life mate, he doesn't understand true loss. Suddenly the vow he made to
Jackson's
father may be his greatest challenge when Jackson imprints on
Caitlin,
Dylan's life
mate. Neither man will risk binding Caitlin, but the demons
want her, too. Too
bad vampires don't share, Caitlin considers seduction
and faerie dust.