As the Chair Turns Series Link
As the Chair Turns Series
Delia Belaquoit's ongoing exploits associated in and around Luna de la Mar Salon & Spa in a Florida town

where the elite live and are oblivious to the other residents' secrets. Managing a spa can be challenging.

Managing magical and paranormal employees is totally off the charts.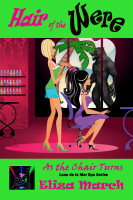 Magic is real. The fix is in.when Delia lands the hairdressing job of a lifetime. After one taste of
faery nectar, the fae knowledge banks open to her. Who knew the town was filled with supernatural
beings
just fitting in? Frankie, her hot boss, is a Werewolf; the massage therapists are catshifters;
her best
friends are witches, and Delia likes being human. Her life is about to drastically change.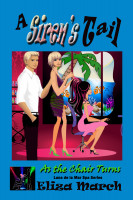 Delia Belaquoit was like any one of us—working hard, living her life, chasing her
dreams, and
achieving some modicum of success along the way. Great job, wonderful
f
riends, singing in a
band. She thought she'd hit the jackpot until everything she once
believed in began to unravel...
humor, fantasy, paranormal, shifter, vampires, faeries, witches, sirens, elves, gnomes,
sea,
werewolves, hairstylists